Best Chocolate and Candy Gifts from USA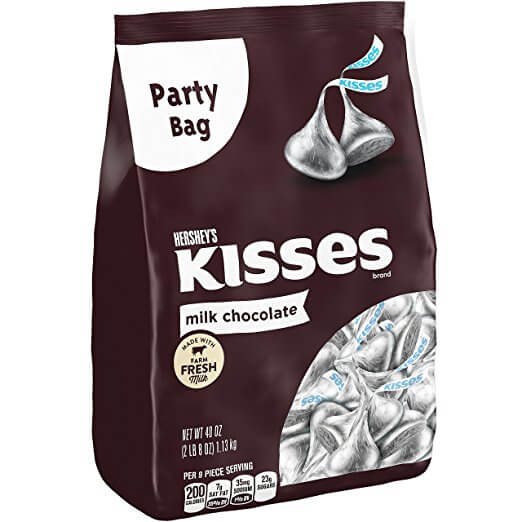 Everyone love chocolates and buying chocolates from USA to India become a good tradition. Men, Women, and Kids crave chocolate all the time as it makes them happy and reduce stress according to some studies.  Here are the best chocolates to buy from USA for your next India trip.
Top Gifted Chocolates from USA to India
Lindt LINDOR Assorted Chocolates
LINDT is Swiss company making chocolates for over 170 years. LINDOR chocolate truffles with great taste, flavor and premium quality is the perfect gift for any occasion. LINDT Chocolatiers roast the beans for optimum flavor and grind them extremely fine therefore giving them remarkable melting taste.
Last update was on: December 9, 2017 12:38 PM
back to menu ↑
Hershey Kisses Milk Chocolates
Hershey is an American chocolate company and one of the largest milk chocolates maker in the world. Hershey's Kisses is the most noteworthy with it's small size and great taste. Also, Hershey Kisses Chocolates are the most loved candy gift from USA by people in India.
Last update was on: December 9, 2017 12:38 PM
back to menu ↑
Hershey Milk Chocolate Bar
Hershey Milk Chocolates are made with fresh farm milk and are gluten-free. These bars are perfect snack anytime and is another most loved delicious gift for everyone including kids.
Last update was on: December 9, 2017 12:38 PM
back to menu ↑
Dove Chocolates
Dove chocolates are made by USA based Mars Company, the same company the makes caramel filled Milky Way candy bars, Delicious Peanut filled Snickers, and Kids favorite M&Ms chocolates.
Made from the finest cocoa, Dove chocolates are the best selling and delicious chocolate gift from USA for everyone including your neighbors and office colleagues.
Last update was on: December 9, 2017 12:38 PM
back to menu ↑
Ferrero Rocher Hazelnut Chocolates
The Italian based Ferrero Rocher chocolates with crispy wafer and delicious taste is one of the most loved chocolates worldwide. The eye-catching gold wrapper with finely chopped hazelnuts make this perfect gift for all occasions. For those, who are bored with Ferrero Rocher the best alternative is Italian based Baci Hazelnut Chocolates by Perugina.
Last update was on: December 9, 2017 12:38 PM
back to menu ↑
Sugar Free Chocolates
The sugar-free chocolate varieties are not available in India easily so for diabetic people these are perfect gift. Hershey Sugar Free Chocolates, California based ChocZero Sugar-free Dark Chocolates and the last but not the least America's favorite Russell Stover Sugar Free Chocolate are some of the most popular sugar-free candy gifts.
back to menu ↑
Liquor Chocolates for Adults
Since 1884 Denmark based Anthon Berg is making verity of chocolates. Anthon Berg Liquor Chocolates are filled with world's most prestigious liquor brands thus giving better taste and finest quality. These chocolates are not available in India so it will be perfect gift for your adult friends.