FoodWorks Premium Quality Popsicle Molds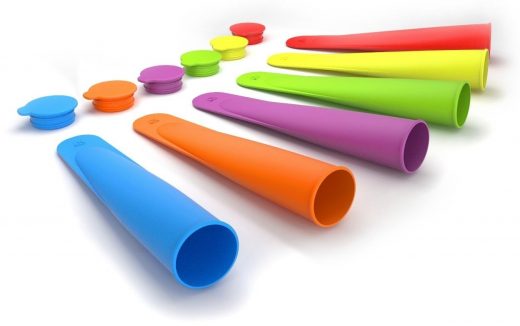 Excellent Gift for Kids to hold their favorite fruit, juice, popcorn, nuts, dry snacks, candy, smoothies, yogurt and more. These premium quality molds are safe to use and unique design makes these molds firmer and easier to carry for Kids.
Why we picked this
Perfect snack container and Great gift for Kids from USA to India
Made with 100% BPA free, Easy to clean and Dishwasher safe
Reusable, reduces waste and saves money
Product Features
EASY TO USE - Easily make healthy and delicious frozen treats. Use your favorite fruit, juice, smoothie recipe, yogurt and more. With our super tight fitting lids, you're free to lay them on their sides or stand them lid side down...whatever works best for you! Our unique design makes the molds firmer, easier for kids to hold and easier to clean.
COLORFUL & FUN - Set of 6 fun and vibrant colors. The ice pop molds come in red, green, yellow, orange, purple and blue - each with a matching lid. Both kids and adults will have fun using them. The clever conical shape lets you drink the last drops without the melted mess or drips.
SAVE MONEY - The popsicle makers are flexible, reusable & dishwasher safe. No more wasting money on store bought popsicles or popsicle sticks. You can even save the leftovers by popping on the lid and throwing it back in the freezer for later.
GREAT FOR DRY SNACKS - Perfect for storing dry snacks in lunches or on the go. Put your favorite trail mix, nuts, popcorn, candy or any other dry snacks in them, pop on the lid and you've got the perfect snack container!
PREMIUM QUALITY - Made with 100% BPA free, premium food grade silicone. So you can rest assured they're safe for you and your family. Each ice pop maker is 8 inches long and holds 3.4 fl oz (1/2 cup) and the slim design takes up minimal freezer space.
Buying Options
Easy and Fun To Use Silicone Popsicle Molds for Kids to hold variety of Snacks.
& Free shipping
Last update was on: November 8, 2017 10:19 AM