Pill Organizer with Reminder System Gift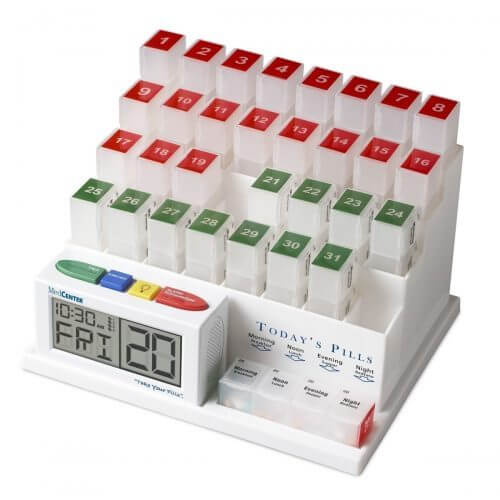 MedCenter 31 day pill organizer with automatic reminder system is a perfect gift from USA to India for elderly, people with memory issues and for those who take medicines regularly. It's talking alarm clock provides repeating friendly reminders and tells you when the next dose is. Pill boxes are easy to open to access medications.
Why we picked this
Organize full month's medication at a time with ease
Provides the repeating friendly reminders ( Ex: good morning please take your morning pills for the 27th")
Red and green colors tracks when day is done and which days are pending.
Absolutely best gift from USA to India for mothers, fathers, grandparents, grandmothers, etc. who takes medicines regularly. Also it is great gift for people with memory issues.
Works on 2 AA batteries so it is easy to carry out of home.
Product Features
Sold in - 1/ea
Dimensions - 10.5 x 7.5 x 8.25 (in)
Monthly, 4 daily dose, medication organizer with red and green coding tracks when day is done
Loud talking alarm alerts users up to 4 times daily when it's time to take medication
Easy set alarm clock
Buying Options
MedCenter 31 Day Pill Organizer with automatic Reminder System
& Free shipping
Last update was on: November 15, 2017 12:04 PM