Great Black Friday Deals to Buy on Amazon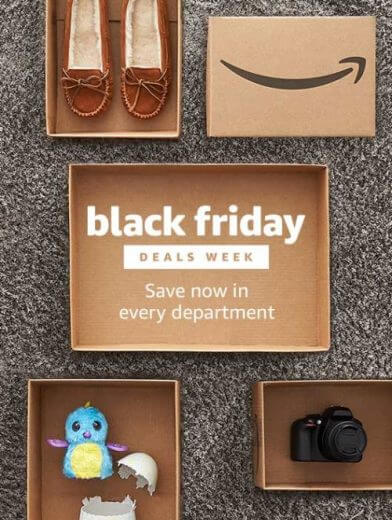 Amazon announced good deals on different categories of products for this Black Friday. The Most Notable ones are on TV's, Toys and Amazon Echo & Alexa Devices.
We have listed all the great deals in this article along with whether the deal is LIVE or Not. You can also Checkout the www.amazon.com/Black-Friday page for latest information on all the Amazon Black Friday Deals.
When do Deals Start
According to Amazon Press Release, All the Deals are available on various dates and times between Nov. 17 and Nov. 24 (Black Friday), while supplies last. Check out amazon.com.blackfriday for currently available deals.
Amazon Fire Tablets and Kindle Deals are already LIVE. We will update the products as when the deals are LIVE.
Customers who voice shop with Alexa will get an exclusive shopping window several hours earlier than the general public with access to some of the best deals starting at 5pm PT, Wednesday, Nov. 22
Money Saving Tips on Amazon
Install Amazon Browser Extension and get $5 Off on $25 on your next purchase.
Amazon is offering all-new Echo for FREE for 30 users. See more details 
Just In : Amazon is offering $10 gift card if you spend $50. This is a limited time offer so don't miss this great deal.
Amazon also Offers 10 to 15% discounts on Amazon Products if you Create Baby Registry and Wedding Registry and add products to the registry.
Use Cash-back Credit Cards for all the Amazon Purchases. Discover is offering 5% Cash-back on up to $1500 Amazon purchases (Oct – Dec 2017). If you shop more on Amazon you can save more money by signing up for Amazon Prime Rewards Card, which offers 5% Cash-back on Amazon.com purchases for entire year.
We recommend to sign-up for Amazon Prime for free for 30-days during this holiday period for exclusive prime member discounts, early deal access and super-fast shipping. You will get all the Prime Benefits for 30 days even if you cancel the free subscription immediately after signing up. If you are a student you can get Amazon Prime for free for 6 months and for half the price after trail period, which is an excellent deal.
Another good idea is to add all the products you are planning to buy for Black Friday to the Shopping Cart which helps you to make faster checkout when the deal is live.
Use Discover Credit Card during this holiday period to buy Amazon Gift Cards as Discover offers 5% Cash-back on upto $1500 Amazon purchases including Amazon Gift Cards. You can use this gift card balance in 2018 to save 5% on all your purchases thus saving $75 on 1500$ worth of Amazon purchases.
Clip and use Amazon Coupons to save more on some products.
Amazon Echo and Alexa Offers [LIVE Now]
Amazon has Black Friday Offers on all the three Echo devices i.e. Echo Dot, Echo and Echo Plus. Echo Dot at $29.99 is really a good price and the lowest we have ever seen on Amazon and Fire TV Stick at $24.99 is the lowest price ever. You can combine Alexa and Fire TV Stick to Control your TV.
back to menu ↑
Amazon Fire and Kindle Offers [LIVE]
The best deal is on Fire HD 10 tablet for $99.99 ($50 Off) which is the lowest price we have ever seen for this affordable iPad equivalent tablet.
Fire HD 10 has 32 GB capacity with 1080p Full HD display and is great gift. If you are on a budget Amazon also has Fire HD 8 for $49.99 ($30 Off).
Black Friday Deal Price is $49.99 ($30 Off).
& Free shipping
Black Friday Deal Price is $89.99 ($40 Off). Comes with 1 year of Amazon FreeTime Unlimited, and a Kid-Proof Case. Amazon also provides 2 year worry free program which replaces ...
& Free shipping
Black Friday Deal Price is $99.99 ($50 Off) the lowest price ever for the Fire HD 10. The All-new Fire HD 10 is a great affordable iPad equivalent for very less price.
& Free shipping
Last update was on: November 22, 2017 8:58 PM
Amazon is also offering good deal on best selling Kindle Papaerwhile E-Reader by offering it for $89.99 ($30 Off). Deal is already LIVE.
Best e-reader ever and the best gift for people who loves reading.
& Free shipping
Last update was on: November 22, 2017 8:58 PM
back to menu ↑
AV Receivers [LIVE Now]
[Excellent Deal] : Amazon has Yamaha RX-V681BL 7.2-Channel MusicCast AV Receiver for just $299 [$150 Savings]. This is a great value product for the price and has excellent reviews. Don't forget to use Discover Credit Card for 5% Cash-back.
[Great Deal] : Amazon has Sony STRDN1080 7.2-Ch. Dolby Atmos Home Theater AV Receiver for $398.00 ($100 off). It's good receiver and supports 4K as well – Sold Out
[Good Deal] Bose Speakers – If you are looking for great home theater speaker system, Amazon has Bose Acoustimass 6 Series V for $499 ($200 Off).
back to menu ↑
Kids Deals [LIVE]
back to menu ↑
Electronics Deals [LIVE]
back to menu ↑
Amazon SmartPhone Deals [LIVE]
Amazon has exclusive deals and discounts for Prime Members on a variety of products. Some of the best deals are on LG Phones and Motorola Mobile Phones such as LG G6 ($399) and LG G6 plus with Lockscreen ads & offers.
If you are not already a prime member it's a good idea to sign-up for free 30 day trail during this holiday period to get these exclusive deals and discounts along with super-fast shipping.
Last update was on: November 22, 2017 8:58 PM
back to menu ↑
Streaming Players [LIVE Just Now]
Amazon Fire TV stick with Alexa Remote is a great bargain at $24.99 which is not LIVE yet. If you are looking for HD and 4K Streaming Player Roku Premiere 4K  UHD player at $49.99 is a great Black Friday deal to check out. Target is also offering Roku Premiere for the same price.
At $24.99 this is great value streaming media player.
& Free shipping
For Ultra HD and 4K TV's this is great deal and is already LIVE.
Last update was on: November 22, 2017 8:58 PM
back to menu ↑
 Amazon Music Unlimited Subscription
Amazon if offering Amazon Music Unlimited for free for 3 months for just 99 cents for Non-Prime and Prime Members who haven't tried the service before. Amazon Music let you access to full catalog on-demand service with access to tens of millions of songs.
back to menu ↑
Best Gift Items to Buy on Amazon Under 10$
Checkout Toys and Games under 10$ on Amazon.
Checkout these great gift items under 10$ with free shipping on Amazon. You don't need to have Amazon Prime membership and you don't need to spend minimum $35 to get free shipping on these products.